01. Grease
02. Summer Nights
03. Hopelessly Devoted to You
04. You're the One that I Want
05. Sandy
06. Beauty School Dropout
07. Look at Me, I'm Sandra Dee
08. Greased Lightning
09. It's Raining on Prom Night
10. Alone at the Drive-In Movie
11. Blue Moon
12. Rock'N'Roll is Here to Stay
13. Those Magic Changes
14. Hound Dog
15. Born to Hand Jive
16. Tears on My Pillow
17. Mooning 2:08
18. Freddy My Love
19. Rock'N'Roll Party Queen
20. There are Worse Things I Could Do
21. Look at Me, I'm Sandra Dee (Reprise)
22. We Go Together: Witch Doctor/Who put the Bomp (in the Bomp, Bomp, Bomp)
23. Love is a Many Splendored Thing
24. Grease (Reprise)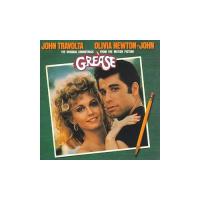 Lav en bestilling/forespørgsel på leje af en jukebox for kun 1.500 kr. her hos os.